My two films this weekend were, again, as different as you can get.
Rotten Tomatoes
Mojo
Pat
Reviewers Audiences
Rampage
50 82
2 B
You Were...Here
86 70
? C
Rampage
was standard Rock, adventurousness with humor and a lot biceps. The computer graphics were outstanding. Those Rotten Tomatoes scores pretty much explain it all: reviewers were not impressed, while viewing audiences liked the film. The giant albino gorilla looked real. The gorilla, George, who was raised as an infant by Dwayne Johnson (
who went to McKinley High School, my alma mater--he's our most famous alumnus, with Senators Tammy Duckworth and Daniel Inouye as #2 and #3
), was a giant because of a genetic engineering development called
CRISPR
(
Clustered Regularly Interspaced Short Palindromic Repeats
), which is the key scientific breakthrough that will change the nature of us.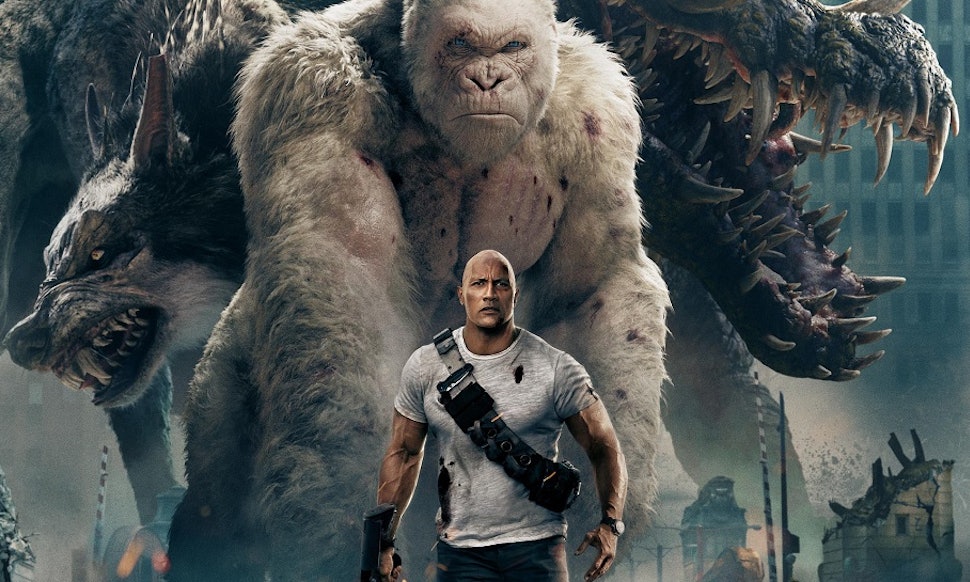 There were boring moments, especially at the beginning, but, the final quarter was non-stop excitement. In essence, three genetically morphed monsters make their way to Chicago, George being one of them, where the Rock and a Phd geneticist from Stanford, who would be the love interest if there is a sequel, attempt to stop them. Director
Brad Peyton has indicated so
, especially if the international box office revenues materialize. There are five versions of the video game. The movie was an adaptation of an arcade game, and you can now
play it free online
.
You Were Never Really Here
is a well-made potential cult classic, according to Rotten Tomatoes reviewers, which won a Best Actor award for Joaquin Phoenix and Best Screenplay honor for director Lynn Ramsey at the 70th Cannes Film Festival. Unfortunately, the whole production mostly lost me, and I can't figure out why they used that long title. I could not quite understand what was happening, for Joaquin with beard is hard to understand. Why it did not register on Box Office Mojo is a mystery, unless Honolulu was one of the very few early release sites.
Here are some comments from those who do this for a living:
YWNRH lands like a blow to the sternum (Adam Graham, Detroit News)
This is an amazing movie that's not for everyone (Jay Stone, Ex-Press.com)
Nearly noir-ish, a man who saves kidnapped young girls becomes more involved than usual in his latest case. (Kevin Williams)
Only after I read the
Wikipedia summary
of the film did I get a sense of what happened. What I got out of the movie: ball peen hammer, elliptical, jelly beans, nostalgic popular music laced with Jonny Greenwood sounds, and a puzzle with missing pieces.
I might mention that
Joaquin Phoenix
had siblings named River (
who died of a drug overdose
), Rain, Summer and Jodean, most who became actors. When young he renamed himself Leaf. He and River are the only two brothers who got nominated for Oscars. He was superb in
Walk the Line
,(
Rotten Tomatoes 83/90
) his version of Johnny Cash, gaining a Best Actor nomination for the Oscar. Phoenix sings so well that people can't tell the difference. Here, again,
I Walk the Line
. I have CDs of both and I can't. Incidentally, that was also the voice of
Reese Witherspoon as June Carter Cash
. Terrific, and she won the
Oscar for Best Actress
for the role.
Joaquin, or Leaf, has now and then taken leave from entertainment, once for alcoholism, and has been associated with a wide variety of charities, including peace, meals for Africa and animal rights. His next film will be as Jesus in
Mary Magdalene
with Rooney Mara, his current girlfriend.
Opening next weekend,
Disobedience
rated
94/93 by Rotten Tomatoes
. Also, the latest
Avengers
, scoring 99% from the potential audience. I don't review comic-book films.
-